What is water management about?
General Information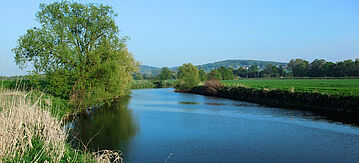 Water protection - What is it about?
"Water is not a commercial product like any other but, rather, a heritage which must be protected, defended and treated as such."
(Excerpt from the recitals of the European Water Framework Directive)
Life is impossible without a sufficient supply of clean water. For example, water bodies provide drinking water for people, and process water for manufacturing goods. They are habitats for many plant and animal species and contribute to preserving biological diversity. It is therefore necessary to reconcile protection and use of water bodies as far as possible. This requires the involvement of both private and commercial water users, for example in ensuring drinking and process water supplies, securing sound waste water management and preserving, or restoring if necessary, the ecological balance of water bodies.
Goals
The European Water Framework Directive, which has been in force since December 2000, provides for several goals to be achieved by 2015. These are
preventing any further deterioration of the status of waters,
achieving a good ecological and chemical status for all water bodies (rivers, lakes, transitional waters, coastal waters and groundwater),
achieving a good quantitative status for groundwater and
progressively reducing pollution from a range of substances that are classified in the Water Framework Directive as presenting significant risks, referred to as priority substances. These include pesticides, heavy metals and other organic pollutants.
German government policy
The central objectives of water protection policy in Germany are:
Conserving or restoring the ecological balance of waters,
Guaranteeing a good quality and sufficient supply of drinking water and industrial water, and
Safeguarding all other water uses that serve public interest, for example recreation and free time, navigation and energy use.
Germany has an efficient water management sector. German water technologies and know-how are highly regarded throughout the world. The German government ensures effective water protection that involves all stakeholders:
Waste water charges create an economic incentive to reduce, as far as possible, the amount of waste water discharged.
A range of laws and regulations ensure the protection of water from inputs of harmful substances and the conservation of water bodies as habitats.
Criminal and liability law penalise the pollution of water bodies and ensure that environmental damage is compensated.
According to the division of competencies between the Federation and the Länder as determined by the Basic Law (Grundgesetz), the Federal Government only has competence for issuing framework provisions. The Länder are responsible for the implementation and supplementation of these Federal provisions and the enforcement of all legal provisions regarding water protection. The Federal Government alone has to answer to the EU.
Setting the pace in international sustainable water policy
As responsibility for water protection does not stop at national borders, the Federal Government has made transboundary cooperation in protecting inland waters and lakes a key element of its water protection policy. Germany is a member of the respective international commissions for the protection of the rivers Oder, Elbe, Rhine, Maas and Danube and the marine protection commissions for the Baltic Sea and for the North-East Atlantic. In a number of United Nations bodies, the German government is working with other countries to develop solutions to global water management problems. Moreover, initiatives like the Petersberg Process (Africa; South-East Europe) and the Berlin Process (Central Asia) were launched to support transboundary cooperation in the management of water bodies in various regions of the world.
Implementation of the EU Water Framework Directive
A core aspect of current national water management is the practical implementation of the EU Water Framework Directive in the ten river basin districts that are fully or partly located on German territory. The German government closely cooperates with the federal states in order to encourage them to apply comparable standards in the enforcement of European and national legislation. Further focal areas of water policy include flood prevention and groundwater protection.
The new Federal Water Act: systematic, comprehensible, practicable
With the new Federal Water Act (WHG), which entered into force on 1 March 2010, the German government has laid the foundations for consistent nationwide implementation of water law. At the same time, greater harmonisation and a clearer systematic approach have made water legislation more comprehensible and practicable. For the first time there are now uniform provisions at national level regarding the management of surface waters, coastal waters and the groundwater.
A wide range of water protection programmes and projects
The German government promotes innovative water protection technologies through numerous projects. The national nature conservation programme "chance.natur - Bundesförderung Naturschutz" supports activities that are aimed at permanently securing and restoring flowing water bodies and their flood plains. This also helps to preserve semi-natural habitats of many threatened animal and plant species.
Consumer information
Water protection starts with avoiding waste water. This is why consumers should use water carefully. Turning off the tap while brushing your teeth or using only small amounts of soaps and detergents saves both water resources and money. As a principle, the sewerage system should not be used as a dump for pollutants. For example, one litre of oil can spoil one million litres of water! Poisons and chemicals should not be discharged in the sewer or with household waste, but taken to special collection points. Paints and paint thinners, medicines, de-icing salt or washing your car in the street - there are many potential threats to water. And there are just as many opportunities to protect this vital asset.