Advanced materials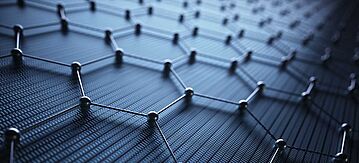 Technological progress is often only made possible with the help of newly developed or improved materials. It is also important to have the right materials when it comes to environmental protection, resource conservation and climate action. Today, materials are being developed with specific properties and fields of application in mind. It is not uncommon for altered functions and properties to be based on purposely designed nanostructures. Many of these materials do not correspond with the European Commission's recommended definition of 2011 which only envisages the term "nanomaterials" for materials between 1 to 100 nanometres (nm). The various legal regulations were thus formulated in line with the recommendation. The working term "advanced materials" has therefore been used for materials characterised by structures up to 1,000 nm. This term was used in the document "Support for 3rd regulatory review on nanomaterials – environmental legislation", the 8th EU research framework programme Horizon 2020 and the 9th EU research framework programme Horizon Europe.
Other new developments in nanotechnology
Substances and materials with properties that cannot be explained solely on the basis of the chemical composition of their respective raw materials are often referred to as advanced materials. A well-known example of this are nanomaterials (see above) where the particle size and condition of the surface determine the properties. These materials are legally regulated for the different fields of application and the European Regulation on chemicals (REACH) was amended to include their particularities. Structural and surface phenomena are not just limited to dimensions up to 100 nm. The special properties of these numerous and very different advanced materials are often based on structures purposely engineered in the range below one micrometre (0 to 1,000 nm).
The potential of advanced materials
Advanced materials like further developed plastics, purposely designed biological nanostructures or glass or ceramic materials with new properties can be used in different sectors including energy, mobility and health. Such materials have the potential to bring about more effective resource conservation, environmental protection and climate action. It should be carefully weighed up whether and under which conditions advanced materials can fulfill this potential, what (new) questions would be raised by the development and application of advanced materials for environmental protection and how these new challenges are to be addressed. The circular economy approach also needs to be taken into account in this context. Furthermore, it should be assessed whether existing legal provisions are sufficiently developed for the particularities of the different materials of the future.
To ensure this at OECD level in the medium term, the OECD Working Party on Manufactured Nanomaterials (WPMN) has also been focussing on advanced materials. In particular, the goal is to ensure the applicability of existing, internationally standardised testing methods for advanced materials in the nanoscale (1 to 1,000 nm).
The experts are not concerned with finding a rigid definition of these diverse materials which must be continuously reassessed over time. Instead, the national and international expert groups are discussing which characteristics should determine whether a newly developed material or material used in a new application should be examined more closely in accordance with the precautionary principle.
The Federal Environment Ministry accompanies development of advanced materials
As part of the Federal Government's NanoDialogue in 2019, experts from industry, authorities, environmental protection and consumer protection came together at the Federal Environment Ministry for the advanced materials dialogue. With their experiences from the (ongoing) debate on the responsible use of nanotechnologies, they discussed the question of how other advanced materials can be developed and used in a sustainable and environmentally friendly manner.
Building on observations made in the dialogue, a research project was initiated to systematically demonstrate how it would be possible to also use advanced materials safely and sustainably. The Federal Environment Agency (UBA) is working together with the University of Natural Resources and Life Sciences, Vienna and Ökopol on this project. As part of the project, UBA is organising three thematic conferences:
December 2019 - Dessau, Federal Environment Agency: Overview of advanced materials and their applications
June and September 2020 (virtual): Regulatory challenges arising from advanced materials
June 2021(virtual): Presentation of project outcomes
Last updated: 28.06.2021