REACH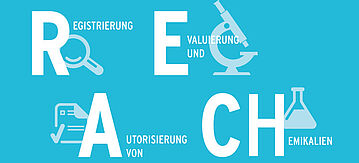 In the federal government, the Federal Ministry for the Environment has lead responsibility for the European Chemicals Regulation REACH (Registration, Evaluation, Authorisation and Restriction of Chemicals). The REACH-Regulation applies to all industrial chemicals and is based on the precautionary principle: All manufacturers, importers and downstream users must ensure that they produce, place on the market or use only such substances that do not adversely affect human health or the environment. Manufacturers and importers are obliged to register their substances before placing them on the market. They must provide various information (inter alia on the properties of the specific substance and various toxicological issues) for the registration.
Amendments for nanomaterials
Engineered nanomaterials may have additional properties that make them different to the usual manufactured substances. Therefore, the REACH Annexes had to be amended in order to obtain all relevant data at registration that are needed for a proper assessment of the safety of nanomaterials for human health and the environment.
Following lengthy negotiations, many proposals and modifications, the REACH regulatory committee of the European Commission voted on the amendments to Annexes I, II, VI and XII of the REACH Regulation to cover nanomaterials as well. Germany had proposed essential modifications that were accepted by the Commission. These relate to the choice of testing methods, the requirement to collect a set of basic data to clearly characterise nanomaterials and nanoforms, as well as more detailed toxicological and eco-toxicological data requirements for the registrants of nanomaterials. In a vote of all member states, the amendments were approved unanimously. This means that uniform testing requirements for nanomaterials in the REACH Regulation applies in the EU since 1 January 2020.
At the request of the Member States, the Commission has also adapted Annex II of the REACH Regulation. It contains the requirements for the safety data sheet. Such a safety data sheet must be prepared for all hazardous substances covered by REACH or the Chemicals Act. It contains information on the identity of the substance, on hazards that may occur, on safe handling and measures for prevention as well as in case of danger. With the adaptation of the safety data sheets to nanomaterials, it must now be stated in each relevant section whether the information also applies to nanoforms and, if so, to which. The relevant safety information must also be assigned to the respective nanoforms. The amended Annex II has been in force without restriction since 01 January 2023.
The European Chemicals Agency ECHA is continuously adapting the guidance documents, which provide guidance to registrants, to these innovations.
Last updated: 23.01.2023