Overview Health in Climate Change
Climate change has many direct and indirect consequences for our health. Changes in weather and climate may increase the prevalence of both infectious diseases and non-infectious diseases such as allergies and intensify symptoms of cardiovascular and respiratory diseases. Increased exposure to UV radiation and ground-level ozone can also negatively impact on our health.
Extreme weather events such as heat, storms, heavy rainfall/floodings, avalanches and landslides pose a direct threat to life and limb. They can also cause social and psychological strain and lead to disorders such as stress, anxiety and depression.
In the past years, the frequency and duration of heat events in Germany has increased. Heat stresses the human body and leads to an increase in illnesses and deaths. The record heat wave in summer 2003 led to approximately 7,500 deaths in Germany alone as well as numerous heat-related illnesses caused by dehydration, heat stroke and heart and cardiovascular diseases.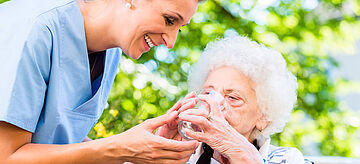 This is why the German government has committed to resolute climate action. Germany wants to become climate-neutral by 2045. In addition to climate action, we need to adapt to the impacts of climate change. This is why, in 2008, the German government adopted the German Strategy for Adaptation to Climate Change (DAS), which has since been regularly updated. One of its priorities for action is the protection of human health.
The Federal Environment Ministry's areas of action
The Federal Environment Ministry cooperates closely with the Federal Ministry of Health, the Federal Ministry of Food and Agriculture and the World Health Organization with regard to the topic of health in climate change. In order to protect the public
we provide early warning systems such as the heat warning system operated by the German Meteorological Service (DWD), the ozone alerts issued by the German Environment Agency (UBA) and the UV-Index developed by the Federal Office for Radiation Protection (BfS);
we study the impacts of climate change on the spread of pathogens and plants that trigger allergies;
we propose training programmes for healthcare staff;
we include climate-related requirements in urban and landscape planning;
we provide information on health hazards posed by climate change and on preventive measures;
we promote research and innovation to foster the necessary adaptation to the impacts of climate change with regard to health.
Further information
Recommendations for prevention
Climate change and its impacts on human health - Recommended precautions and steps (in Russian)

здоровы

Download
Strategies and resolutions
Education
Health in Climate Change with other authorities and institutions
Last updated: 07.12.2020