REACH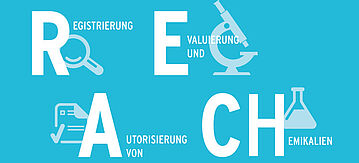 REACH stands for the EC Regulation concerning the registration, evaluation, authorisation and restriction of chemicals. The main aim of REACH is to close existing gaps in knowledge in order to facilitate the responsible use of chemicals.
REACH
requires that manufacturers and importers identify hazardous properties (e.g. toxic, carcinogenic, dangerous for the environment) of substances (chemicals and natural substances) and evaluate their health and environmental impacts, until now 23.000 substances have been registered (as of 10/2021).
also covers the use of substances as product components,
established a authorisation procedure for particularly hazardous substances,
can ban and limit the use of certain hazardous substances,
obliges manufacturers and importers to provide information on hazardous properties and the safe use of the substances,
requires that commercial users carry out their own safety analysis if their use does not comply with the recommendations issued by the manufacturer or importer,
creates a tight safety net down to the product level by this.
REACH is a central building block for environmental and health protection in Europe The knowledge about substance properties, in particular regarding the long-term effects of chemical substances, e.g. their carcinogenic and teratogenic properties, and a risk management system based on this information create a high level of protection for human health and the environment.
Last updated: 06.01.2022