Waste oil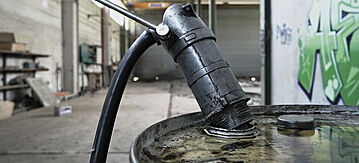 As all waste oil from machines, engines, gearboxes or turbines may damage the environment if it enters soil or water, its handling is subject to stringent environmental regulations. The Waste Oil Ordinance, for example, stipulates that the sale of engine oil and gear oil is only permitted if a waste oil collection point exists at or in the immediate vicinity of the point of sale.
For instance, if a store sells engine oil it is required to accept the return of waste oil to the same quantity free of charge. If a return is not possible at the point of sale, a written notice must be put up clearly indicating the location of the nearest waste oil collection point, which must be in the immediate vicinity.
There are also strict regulations governing the disposal of waste oil: waste oil is either reprocessed to obtain new lubricants or heating oil, incinerated to generate energy or disposed of as hazardous waste.