Packaging waste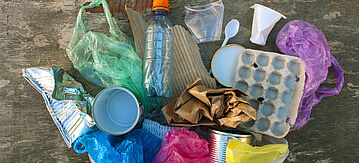 Packaging is part of daily life and is used for many purposes. It ensures the safe delivery of products (transport packaging), serves as containers, protects goods (sales packaging) and is sometimes also used to improve the presentation of products (secondary packaging). Depending on its intended use, packaging is divided into different categories.
Limiting packaging quantities
The most common packaging materials are glass, paper, card, cardboard, plastic, ferrous metals, aluminium and wood – all of which are valuable (secondary) raw materials that if recycled or reused, can help reduce the exploitation of natural resources, and bring about energy savings and reduce greenhouse gas emissions.
In addition to improving recycling, the aim of the Packaging Act provisions is to minimise the use of resources as much as possible already at the manufacturing stage. The license fees to be paid to the dual system by those placing packaged goods on the market depends, among other things, on the amount of material used for the packaging. In other words: more packaging material leads to higher costs. This serves as an economic incentive for lightweight packaging. It also ensures account is taken of comprehensive producer responsibility, as the responsibility of manufacturers and distributors covers the whole process from production to the environmentally friendly disposal of their product.
Last updated: 17.03.2023