Welcome to the touring exhibition "Biodiversity - protected, utilized, globally promoted"!
With 23 selected photos, we showcase the fascinating nature of our global biodiversity. This number is not mere coincidence but is based on the 23 action targets of the Kunming-Montreal Global Biodiversity Framework (GBF) adopted in December 2022. The photos depict how Germany already contributes to achieving the ambitious targets of the GBF worldwide as part of the International Climate Initiative (IKI).
The IKI supports projects in partner countries that benefit biodiversity as well as tackle climate change, both through mitigation and adaptation. Since the IKI was launched in 2008, more than 350 biodiversity-related projects with a total volume of more than 1.6 billion euros have been approved. The activities of the IKI projects shown here range from restoration of coastal areas in Vietnam, to sustainable cultivation of cocoa in Colombia, and the protection of beech forests in Ukraine. For each of the 23 photos/targets, the world map illustrates their geographical location.
We hope you will enjoy the photos and that they will inspire enthusiasm and fruitful discussions!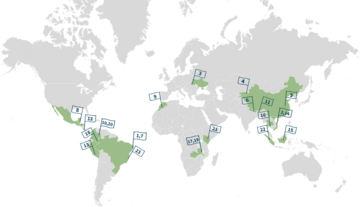 Target 1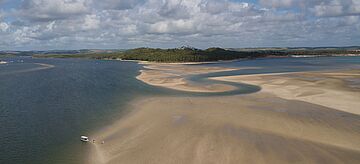 All areas under spatial planning; bring loss of high biodiverse areas close to zero
Brazil's 17 coastal states shelter unique mangroves and marine ecosystems and are home to traditional fishing communities. These valuable ecosystems provide services that are crucial for local communities, economic development and climate protection; for example, by providing carbon sinks, nurseries for fish and crab species, and tourism. Unfortunately, nowadays they are threatened by intensive use, settlement and pollution. To ad-dress these challenges and improve coastal management, an Integrated Coastal Management Agenda was de-veloped with the coastal states. At the local level, the Environmental and Territorial Zoning of Nautical Activities (Zatan) of the Formoso River Estuary in Pernambuco was developed, to reconcile the socio-economic interests of tourism and traditional fishing with biodiversity conservation in the region.
Target 2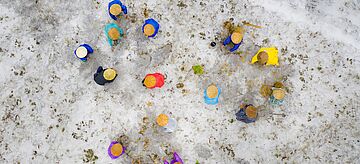 Restore more than 30 percent of degraded ecosystems
The dense dune forests and mangrove ecosystems of the northern central coastal region of Vietnam are severe-ly degraded and deforested. In response to this, local community members in the Thua Thien Hue province are restoring their land with seedlings as well as supporting the process with knowledge obtained and lessons learned from project implementation. The successful restoration of these coastal lands not only mitigates the impacts of the many extreme weather events, but also helps secure the freshwater resources needed for agricul-ture in the region. Some of the selected tree species also provide additional income through non-timber forest products. For example, Melaleuca spec. is used and manufactured for essential oils. Other species yield edible oils and fruits or can be used as traditional medicine.
Target 3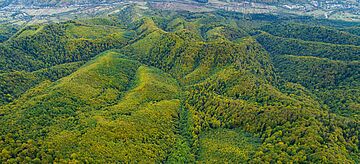 Conserve more than 30 percent of ecosystems, respecting the rights of indigenous peoples and local communities
Ukraine is home to some of the last primeval forests in Europe. The Uzhanskyi National Park on the border with Slovakia and Poland covers more than 3,000 hectares of primeval beech forests, which are a unique forest eco-system rich in biodiversity and a UNESCO World Natural Heritage Site. These pristine forests in the Eastern Carpathians accommodate a diverse flora and fauna, including 500 plant species as well as 90 different mam-mal- and 300 bird-species. Despite its protection status, this area is threatened by illegal logging. Various inter-national projects support conservation efforts to preserve these ecologically valuable areas for species and local communities, which will once again be able to generate income from tourism in the national park after the war has ended.
Target 4
Halt extinction of threatened species, reduce extinction risk and manage human-wildlife conflicts
Migratory species, such as the snow leopard, are among the most threatened species both in Kyrgyzstan and worldwide. Climate change has been affecting their migratory patterns, which has reduced the effectiveness of protected areas alone in safeguarding this species. Coupled with changing land-use patterns, this is expected to lead to increased human-wildlife conflicts. Snow leopards are keystone species, meaning that their abundance has a disproportionate impact on the biodiversity in a given area. To better protect snow leopards, researchers are closely studying their behavior. Camera traps deployed in difficult-to-reach regions, such as the Issyk-Kul region, collect data on numbers, behavior, habitats, and migration. Photographs and movies from camera traps are shared with local communities to raise their awareness about the value of protecting snow leopards and biodiversity conservation more broadly.
Target 5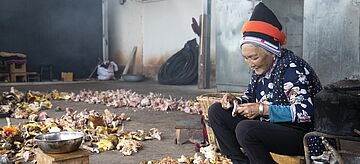 Sustainable, safe, and legal use, harvesting and trade of wild species
70 percent of the world's poor are directly dependent on wild species. One in five people rely on wild plants, algae and fungi for their food and income. Therefore, it is crucial to ensure sustainable, safe and legal use, harvesting and trade of wild species. In China, ethnic minority women play crucial roles in ecological conservation through the sustainable collection of morille mushrooms. The women patrol and monitor possible theft of wood and herbs. Today, the communities can meet their families' living expenses solely from income derived from the mushrooms, honey and wild herbs harvested within their territories.
Target 6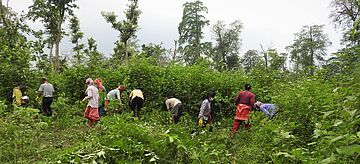 Reduce impacts of invasive alien species, reducing their introduction rate
Invasive alien plant species constitute a growing pressure on natural and managed ecosystems of all scales. Their threats to biodiversity are increasing alongside other global environmental changes. In Padampur, Nepal, invasive species such as Lantana camara, one of the 100 worst invasive species globally, are already hampering forest regeneration, degrading wildlife habitats and hindering access to forests. Therefore, there is an increasing need to establish cost-effective and ecologically sound invasive species management. Sustainable management models aim to restore degraded forests, promote natural regeneration and support capacity development of local communities in invasive species management.
Target 7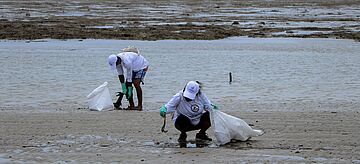 Reduce pollution including nutrients and pesticide risk by more than 50 percet, reduce plastic pollution
16 out of the 28 Brazilian metropolises are located in coastal regions and more than half of the gross domestic product is generated here. The inadequate disposal of waste on land, especially plastic, is a significant source of pollution of the oceans, causing damage to marine ecosystems and the loss of biodiversity. To prevent and combat marine litter in Brazil, the Environmental Agency of the coastal state of Pernambuco (SEMAS) developed its Action Plan to Combat Marine Litter (Pacolmar). Rapid evaluation tools, such as the Waste Flow Diagram, were used to identify and quantify (plastic) waste leaks in coastal municipalities and develop recommendations for reducing leakage and improving local solid waste management.
Target 8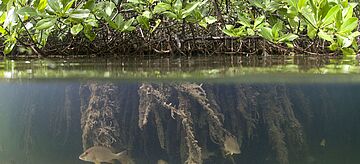 Minimize climate change impacts, increase resilience through nature-based solutions and ecosystem-based approaches
The Mesoamerican Reef covers beautiful coral reefs, mangroves, seagrasses and coastal lagoons. It stretches for several hundred kilometers from the northeastern tip of Mexico's Yucatan Peninsula to Belize, Guatemala and Honduras. More than two million people directly depend on the integrity and health of the reef system for their livelihoods. Key economic sectors, such as fisheries and tourism, benefit from the reef's appeal. At the same time, these coastlines are among the most vulnerable regions worldwide to climate change impacts. There is a need to strengthen capacities in coastal communities and government institutions in the integration of climate change scenarios and adaptation options into participatory decision-making processes.
Target 9

Sustainable management and use of wild species and social, economic and environmental benefits for people
About 75 percent of the most important food crops worldwide depends on animal pollination and 85 percent of the world's pollination services are provided by wild pollinators such as bees, wasps, flies, beetles and butterflies. However, especially in agriculture, monocultures are often cultivated, which offer little or no habitat (forage and nesting) for wild pollinators. This endangers the existence of these irreplaceable ecosystem-service providers. Farming with Alternative Pollinators (FAP) provides an opportunity to increase the diversity of wild pollinators while generating higher income and producing food with fewer pesticides. For example, the digger wasp in Morocco has a special role as a ground-nesting species. It provides pollination services and regulates the ecosystem by eliminating pests.
Target 10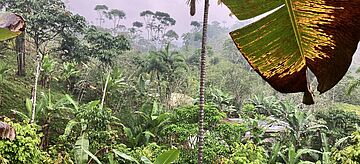 Sustainable management of areas under agriculture, aquaculture, fisheries and forestry, through a substantial increase of the application of biodiversity friendly practices
Forests are important for biodiversity, and they also have a major role to play as carbon reservoirs. However, these ecosystems are often threatened by an increase in land use. This is also the case in Colombia, one of the most biodiverse countries in the world. Establishing sustainable land-use systems for deforestation-free value chains is key to reducing or solving land-use conflicts and essential for protecting biodiversity. Based inside the Colombian Amazon rainforest, in Belen de los Andaquies, Caquetá, the cocoa plantation depicted is one of the sites where agricultural production, biodiversity and peacebuilding go hand-in-hand.
Target 11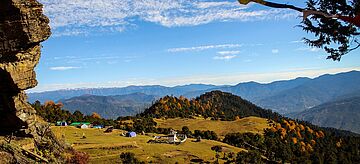 Maintain and restore ecosystem services such as regulation of air, water, and climate, soil health, and pollina-tion through nature-based solutions and ecosystem-based approaches
In southwestern Bhutan lie areas particularly rich in biodiversity and crucial for providing multiple ecosystem services. Ecosystem service refers to the benefits humans derive from ecosystems. The photo shows the Bum-dra ecotourism camp, a popular hiking and camping destination. Visitors can enjoy breathtaking views of the Paro valley and surrounding mountains along the way. Furthermore, the area is an important water catchment to the downstream communities of the Paro valley. The landscape is home to various plant and animal species, including the endangered Bengal tiger and red panda. Bumdra is also an important cultural and religious site. The region thus provides a wide variety of ecosystem services, contributing to the well-being of people.
Target 12
Increase area and quality of green and blue spaces in urban areas
Today, more than half of the world's population – approx. 4.4 billion people – live in cities. This trend is ex-pected to continue in the near future. Increasingly, people are suffering from noise-, air- and water-pollution, flooding and extreme heat. Climate change is further exacerbating the situation. Building and connecting green and blue spaces within cities, via so-called interurban biological corridors, can help leveraging these issues by generating suitable habitats for the conservation of biodiversity. This, in turn, positively affects human well-being. For example, in San José, Costa Rica, efforts are being made to integrate biodiversity and ecosystem ser-vices into spatial city planning, thereby contributing to improving its inhabitants' quality of life.
Target 13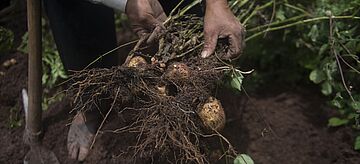 Fair and equitable sharing of benefits arising from the utilization of genetic resources
The potato is considered the world's third most important food crop. It originates from the Latin American Andes – indeed, 2,300 of the 4,000 known potato varieties grow in Peru in the Sacred Valley of the Incas. It is thanks to indigenous communities cultivating and preserving these crop varieties over time that we can still grow and enjoy them today. However, the profits from potato cultivation and marketing usually do not benefit the indigenous communities. The Nagoya Protocol under the Convention on Biological Diversity regulates that revenues generated from traditional knowledge are shared fairly. In line with this, Quechua communities in Peru have agreed to organic protocols with the International Potato Centre in order to preserve the genetic diversity and integrity of their biocultural traditions and fragile ecosystems.
Target 14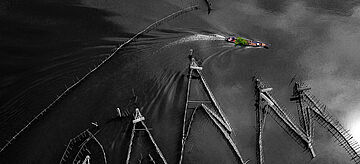 Full integration of biodiversity and its values into policies, regulations, planning and development strategies
Mangroves provide many ecosystem services, for example, as nurseries for numerous fish species, offering them a rich habitat. However, often there lies a conflict between protection and restoration of mangroves in estuaries and the interests of fishermen. Therefore, projects in Vietnam focus on the reconciliation of protection, utiliza-tion and restoration, thereby combining all economic sectors and nature conservation in a meaningful way. The photo shows the transport of mangrove seedlings to a planting site in the Tam Giang Lagoon in Vietnam (Thua Thien Hue Province) next to fishing nets of local villagers.
Target 15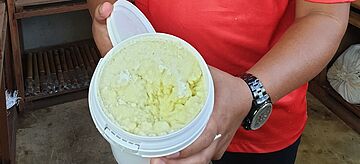 Enable business to reduce negative impacts on biodiversity and increase positive impacts, reduce biodiversity-related risks to business and finance
Indonesia holds the world's third largest rainforest. Rainforests host large numbers of endemic, often threat-ened species. Unfortunately, few primary rainforest areas remain as most have already been altered by human activities. Therefore, it is of utmost importance to improve the conservation and restoration of forest ecosys-tems by, for example, offering local communities sustainable, alternative income sources while reducing pres-sures associated with timber extraction. This can be achieved by adding value to local products and value chains. In Kapuas Hulu, nuts from the endemic Tengkawang (Shorea stenoptera) tree are being harvested to produce oils and butter that have similar properties to cocoa butter and can therefore be used as substitutes in cosmetics. The indigenous Dayak people have been using the nut for centuries for cooking, skincare and cere-monial purposes.
Target 16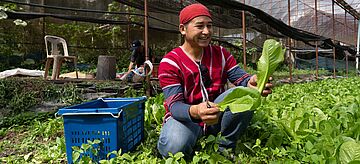 Enable people to make sustainable consumption choices, reduce footprint of consumption, halving global food waste, reducing overconsumption
In order to improve the environmental impact of agricultural products, sustainable forms of consumption and production are promoted. Cooperation between stakeholders in the agricultural value chain can stimulate the production of more sustainable products and food. In model regions, such as in Thailand and Cambodia, envi-ronmentally friendly cultivation practices and value chains are already being established to open markets. In addition, these practices increase the demand for nature-friendly, low-carbon products among consumers and empowers them to make informed purchasing decisions through sustainability information. In Thailand, a so-cial enterprise model is helping improve the livelihoods of smallholder farmers while restoring forests and local food systems. The farmers are encouraged to transition from monoculture practices to agroecology and mixed farming.
Target 17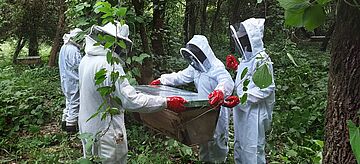 Implement and strengthen biosafety measures for handling biotechnology
In order to enhance Malawi's future development and economic growth, biotechnology is promoted as one of the tools to address poverty, hunger and disease. However, certain types of biotechnology can negatively im-pact genetic diversity, if farmers favor genetically improved crop varieties and livestock breeds, causing tradi-tional varieties and breeds to become extinct. For example, agriculture is driving deforestation in Malawi. Res-toration interventions aim to reduce forest loss and try to recover forest resources. Income-generating activities like beekeeping and other agroforestry products, including the introduction of village savings and loans associa-tions, aim to improve farmers' livelihoods. In the photo, farmers wear protective gear for beekeeping as they do maintenance and check beehives during the production cycle.
Target 18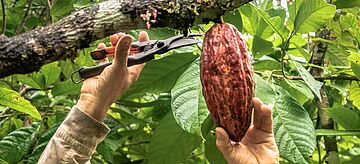 Eliminate, phase out or reform incentives including subsidies harmful for biodiversity and scale up positive incentives
In the Colombian Amazon, farming families who have abandoned illegal coca cultivation are now growing or-ganic cocoa. In this way, they are contributing to the conservation, management and sustainable use of biodi-versity, as well as to peace-building activities in an area that was affected by the armed conflict in Colombia. In Colombia and worldwide, there is a need for significantly increasing subsidies for agroforestry systems in which cocoa, coffee or natural rubber are grown sustainably in place of the monocultures established in many regions. The cacao shown in the photo originates from farms in the vicinity of the Alto Fragua Indi Wasi National Park in the department of Caquetá, a strategic area connecting the Andean Amazonian Forest.
Target 19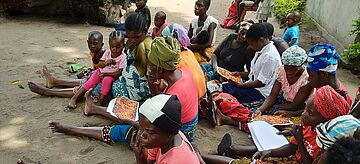 Mobilize at least 200 billion US-Dollar/year from all sources, including increasing total biodiversity related international financial resources by at least US-Dollar 20 billion/year by 2025 and by at least US-Dollar 30 billion/year by 2030
Bankable business models and customized instruments for mobilizing biodiversity finance are lacking in many regions around the world, including in Malawi and Zambia. However, biodiversity-positive enterprises have a crucial role to play in the protection and restoration of natural environments. Enterprises providing biodiversity-based products that improve the abundance of important insects, such as bees, have been found to improve the status of biodiversity in the region. In this photo, a group of female beekeepers is being trained in honey production and the management of bees. This not only helps protect biodiversity but also provides an alterna-tive income source for members of the community.
Target 20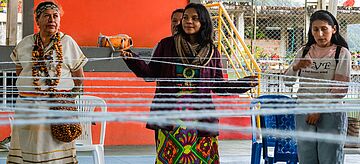 Strengthen capacity-building and development as well as technical and scientific cooperation
Nataly Domicó (centre) from the Emberá indigenous group in Colombia is working with various indigenous peoples and local communities (IPLCs) on their process of self-empowerment and registration in the Global Registry of Indigenous and Community Protected Areas (ICCAs). It is an online information platform where local communities can provide data and case studies on ICCAs worldwide. Working as a network is very important for protecting ICCAs. It has already helped the Gran Tescual Indigenous Reserve conserve and defend 10,174 hectares of land. Handicrafts, such as weaving, symbolize the interconnectedness within indigenous networks and can help some IPLCs express their words, feelings and memories of their ICCAs.
Target 21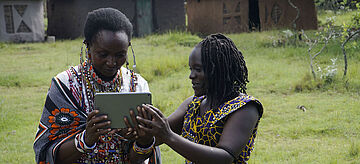 Ensure data, information and knowledge accessibility, safeguarding traditional knowledge through free, prior, informed consent of indigenous peoples and local communities
The photo was taken in a local community close to Nyekweri Forest in Kenya, which lies to the west of the Maa-sai Mara Nature Reserve and provides an important refuge for endangered wildlife. In traditional Maasai com-munities, the principle of seniority applies among women as well as men. But it is the young and often well-educated women who can provide important impulses, when it comes to the question of how nature conserva-tion can contribute to improving living conditions. Together, they can manage to improve the participation of women in traditional decision-making bodies. Women's groups of the Maasai community offer the opportunity to improve the intergenerational exchange, to learn from each other and strengthening their rights. Together, they can succeed in enhancing the participation of women in traditional decision-making bodies.
Target 22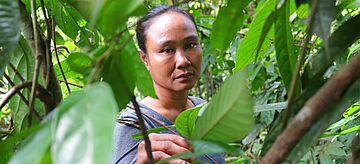 Participation of indigenous peoples and local communities in decision-making, and access to justice
Hutan Harapan, the Indonesian "forest of hope", represents about one fifth of all remaining lowland rainforest areas on Sumatra. Protecting and restoring this vital ecosystem requires the collaboration of all partners and especially the involvement of indigenous peoples and local communities. The photo portrays Bi Teguh from the indigenous group Batin Sembilan, who lives in the heart of the Hutan Harapan rainforest. About her work in Hutan Harapan, she says, "I was hired as a field supervisor to encourage the women of Batin Sembilan to be active in forest conservation. We do this, for example, by searching for non-timber forest products or by plant-ing trees."
Target 23
Ensure gender equality through a gender responsive approach
In many traditional fishing communities in Brazil, the participation of women in decision-making processes is limited, even though they play a central role in their communities. Adopting a gender-sensitive approach to biodiversity conservation, two networks of approx. 600 traditional fisherwomen in the Region Costa dos Corais and in the state of Bahia were funded and strengthened with trainings, participatory workshops and technical assistance. Today, the networks actively participate in national commissions and initiatives, and are developing community projects to generate income from activities that contribute to the conservation of coastal ecosys-tems, for instance, producing fertilizer from organic seafood waste.