What is nature-based climate action?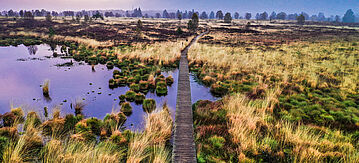 Nature-based climate action
Intact ecosystems are a natural defence against climate change. Forests and floodplains, soils and peatlands, seas and water bodies, and urban and rural near-natural green spaces remove carbon dioxide from the atmosphere and store it for the long term. They also act as buffers against the impacts of climate change by accommodating flood waters and providing cooling during hot weather. And they sustain our natural foundations of life, provide important habitats for animals and plants, store water and provide people with places for respite and recreation. Our Action Plan on Nature-based solutions for Climate and Biodiversity strengthens ecosystems and unites climate action and nature conservation. A wide range of measures will ensure that degraded ecosystems regain their health, their resilience and their biodiversity.
Nature-based climate action is vital
The climate crisis has long since reached Germany. Extreme weather events are becoming more frequent. We are experiencing heat waves and drought on the one hand, heavy rainfall and flooding on the other. More and more species are being irretrievably lost, space for nature is dwindling and ecosystems are severely impaired. The human-induced dual environmental crisis of global heating and biodiversity loss threatens our foundations of life. And the two crises are reinforcing each other. For instance, low water levels and high temperatures in water bodies place animals and ecosystems under enormous strain, and can make environmental disasters like the massive fish die-off in the River Oder even worse.
Global heating is causing conditions to change faster than ecosystems can adapt. In turn, degrading ecosystems like forests and peatlands are releasing the carbon that they have stored for thousands of years at an extremely rapid rate, exacerbating the climate crisis.
That is why we must resolutely combat both these environmental crises, and at the same time prepare for the unavoidable impacts of climate change. This is precisely what the Action Plan will do – at the interface between biodiversity conservation, climate action and adaptation to the climate crisis.