Radon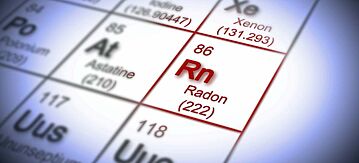 Radon is a natural radioactive noble gas. It is has no colour, smell or taste and is an intermediate product of the decay of radioactive materials naturally occurring in soil. Radon can seep into buildings through pathways (e.g. through cracks in the foundation or unsealed cable ducts and pipe shafts) and accumulates in indoor air. The accumulation of radioactive radon decay products in the lungs and the decay of the remaining radon in the body are the second leading cause of lung cancer in Germany, after smoking tobacco.
In addition to having undergone a thorough revision and the extension of its provisions to include workplaces, the new Radiation Protection Act now contains provisions on protecting the public against radon in rooms that are used regularly, referred to as recreation rooms in the act. From now on, the reference level applicable to the average annual radon activity concentration in to both recreation rooms and indoor workplaces is 300 Bq/m3, which means 300 radon decays per second and per cubic metre of indoor air.
In Germany, there are great regional variations in radon levels in soil depending on local geology and soil gas permeability. By 31 December 2020, the German federal states (Länder) will identify radon prone areas, for example areas where reference levels are exceeded in a significant number of buildings. However, elevated radon levels can also occur locally outside of these areas, which in turn can lead to reference levels in buildings being exceeded.
Radon action plan
In accordance with Section 122 (1) of the Radiation Protection Act, the Federal Ministry for the Environment, Nature Conservation and Nuclear Safety (BMU) drew up a radon action plan with the participation of the federal states. The action plan outlines the measures for protection against radon as stipulated in the Radiation Protection Act. It also contains goals for tackling the long-term risks of exposure to radon in recreation rooms and indoor workplaces. It describes the planned course of action of the federal government and the federal states and provides experts and interested citizens with information on the strategy to reduce radon exposure in Germany.
Radon in workplaces
The entry into force of the new Radiation Protection Act thoroughly changed radon protection in workplaces. A staggered approach was chosen so that protection measures only have to be implemented in workplaces where high radon concentrations are recorded. Previously, regulations were only applicable to selected types of workplaces (for example caves, radon spas and water works). Now, measures to protect against radon are mandatory for all workplaces located at basement and ground floor level in radon prone areas. In these cases, employers are obligated to carry out measurements to determine whether the reference level of 300 Bq/m³ is exceeded and the extent to which protective measures need to be taken in the workplace.
Last updated: 27.07.2020