Information on shortlinks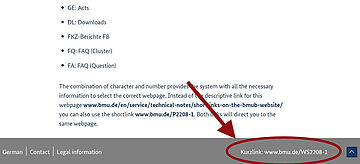 On the BMUV website, you will find a shortlink at the bottom of each page. All shortlinks are composed of two letters and a series of numbers. The following page explains how you can use the shortlinks.
The video player in the BMU media library
In the media library, you can find various videos on the work of the BMUV. The following page explains how the video player works.
Download instructions
The BMUV provides accessible PDFs for download. You need a PDF reader to view the documents on your computer.