Waste electrical and electronic equipment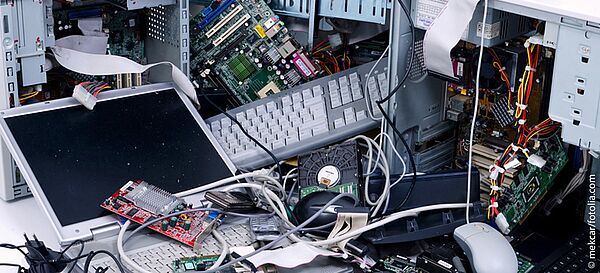 Electrical and electronic equipment is a diverse and very dynamic product group, characterised on the one hand by ever shorter lifecycles and rising sales figures and on the other hand by a long lifespan and high content of valuable materials. Over the last ten years, an average of 880,000 tonnes of waste electrical and electronic equipment (WEEE) per year has been produced in Germany alone. There are various categories of discarded WEEE such as
large household appliances (also referred to as "white goods"): for example, washing machines, refrigerators, freezers, stoves;
small household appliances (also "white goods"): for example, toasters, coffee makers, microwaves;
information and communication technology devices such as computers, monitors, printers, mobile phones, telephones;
consumer electronics devices (also known as "brown goods") such as television sets, video recorders, digital cameras;
lamps (such as gas discharge lamps, LEDs);
PV modules.
Electrical and electronic equipment contains a variety of substances and materials. If WEEE is not properly disposed of, for example if it is mixed in with household waste, there may be environmental risks due to the harmful substances contained in such devices. In addition to harmful substances such as heavy metals and CFCs, WEEE also contains a number of valuable materials, which must be recovered and recycled. Proper disposal of e-waste can provide substitutes for primary raw materials (and their costly extraction) and make an essential contribution to the conservation of natural resources. Germany's Act Governing the Sale, Return and Environmentally Sound Disposal of Electrical and Electronic Equipment (Electrical and Electronic Equipment Act – ElektroG) therefore stipulates the following overarching goals:
prevention of waste from WEEE and enhanced preparation for re-use;
environmentally sound disposal of WEEE;
recycling of electrical and electronic equipment on the basis of manufacturer responsibility (product responsibility), also as a means of enhancing resource efficiency.
To achieve these goals, the Electrical and Electronic Equipment Act, which implements Directive 2012/19/EU on waste electrical and electronic equipment (WEEE), sets forth concrete obligations for all relevant stakeholders (manufacturers, commerce, municipalities, owners, disposers). Waste prevention, reasonable checks of whether whole appliances or individual components can potentially be treated for re-use and requirements on further recovery of waste will make a substantial contribution to the conservation of natural resources and the reduction of pollutant emissions.
Achieving the targets of the Electrical and Electronic Equipment Act requires the active involvement of consumers. E-waste can only be collected for high-quality recycling in special facilities if it is disposed of separately by consumers. These can dispose of WEEE in several ways. For example, they can drop off their waste equipment with the public waste management authorities free of charge, for example at a local recycling centre. Under certain circumstances, electronics retailers may also be obliged to accept WEEE free of charge. As of 1 July 2022, food retailers are also required to accept WEEE if they sell such equipment multiple times each year. Manufacturers must pick up e-waste from the municipal collection points and prepare it for re-use or ensure its proper disposal.
A campaign entitled "Plan E" has been launched with a view to informing and raising awareness among consumers about their responsibilities and options. The campaign provides important information and describes consumers' options.