Sustainable digital transformation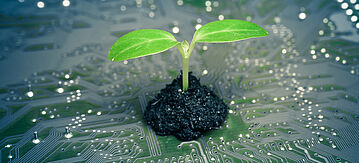 Green IT specifically describes a strategy with which an organisation strives to align its information and communications technology with sustainability goals. The government ministries (and thus also the BMU) have committed to the following three goals:
Energy efficient data centres
Sustainable procurement of hardware
Blue Angel eco-label certification
The BMU is implementing several measures to achieve these goals:
We are addressing environmental protection and aspects of resource efficiency in and via information and communication technology (ICT).
On behalf of the CIO Council, we are leading the Green IT project group in which the ministries are jointly refining their Green IT strategy.
To implement the corresponding measures for the IT of the federal government, we set up a Green IT Office (Green IT Initiative Office).
We are also in close contact with German Environment Agency advisory unit for sustainable information and communication technology (Green IT).
Environmental aspects of the digital transformation of industry and society
Over the past few years, due to rapid technological advances our understanding of Green IT is moving towards sustainable digitalisation. In conventional ICT just the computer, server and telephones had to be taken into account. Today, however, we are presented with the challenge of addressing environmental issues in a world in which cars, refrigerators, watches, industrial robots, weather satellites, energy meters and whales are connected. The discourse in the environmental sector is also increasingly being determined by buzz words like digital currencies, online trading, industry 4.0, smart cities, e-Agriculture, blockchain, artificial intelligence (AI) and disruptive business models. Digitalisation will further accelerate the expansion of the green tech sector.
The BMU is working intensively on these topics. We are organising hackathons, have commissioned major studies and projects, are granting funding and making environment and digitalisation a focus of the German EU Council Presidency in 2020.