9th CBD 2008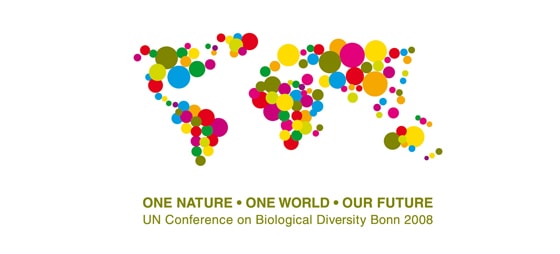 The 9th Meeting of the Conference of the Parties to the Convention on Biological Diversity (CBD) took place from 19 to 30 May 2008 in Bonn. This conference was the last meeting of the Parties before 2010 – the decisive date by which heads of state and government want to significantly reduce the loss of biological diversity (2010 biodiversity target). Germany has an excellent reputation internationally as a driving force in global efforts for sustainable biodiversity conservation – not least because the German G8 Presidency managed to place the topic of biodiversity high on the political agenda, both at the meeting of environment ministers and even at the G8 summit of heads of state and government.
Global momentum was gained in Bonn for the protection of nature. The decisions taken at the conference, which the Parties' environment ministers joined for the last three days, mark the return of nature and species conservation to the international environmental policy agenda. Agreement was reached on the most contentious issues and the deadlock of the past years was overcome. The meeting's ministerial segment played a major role in this: it provided the necessary support in decisive stages of the negotiations to reach agreement on key questions.
On the first day of the meeting Germany took over the Presidency of the Convention, which it will hold until the next meeting of the COP in autumn of 2010, thus bearing a great responsibility in ensuring that the decisions adopted in Bonn will be implemented in a comprehensive and timely manner. In the next two years Germany will therefore follow the clear timetable leading to the 10th meeting of the Conference of the Parties in Japan in 2010, which was adopted with the "Bonn Agenda for global biological diversity" during the ministerial segment. The Bonn Agenda identifies thematic areas in which the German Presidency considers progress to be particularly important: adoption of an internationally binding agreement on the fair sharing of the benefits arising out of the utilisation of biological diversity (access and benefit sharing – ABS), continuation of the Life Web Initiative for a voluntary global network of protected areas on land and at sea, mobilisation of financial resources, detailed assessment of the 2010 target and conclusion of a study showing the economic costs caused by the destruction of nature.