General Information
What is mobility and environment all about?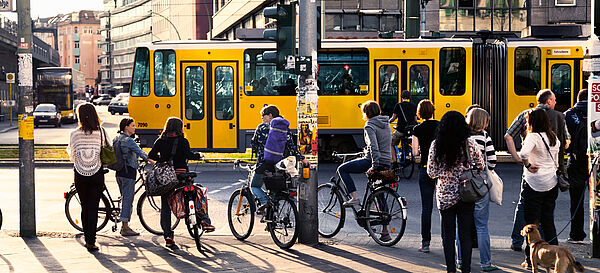 Our society places great value on mobility. A well developed infrastructure and flexible, reliable systems of transport are fundamental requirements for a functioning economy. More and more often, however, our mobility, which is based on individual (car) traffic, reaches its limits and comes to a standstill.
About 95 percent of today's transport are dependent on fossil fuels. The consequences, air pollution and climate change, lead to negative impacts on the environment, health and the quality of life. In Germany, for instance, around 20 percent of direct CO2 emissions are attributed to transport, with street traffic causing about 95 percent of those emissions. More than half of the population feels disturbed by traffic noise. The expansion of infrastructure leads to fragmented landscapes and land sealing.
Sustainable transport policy must therefore principally aim to significantly improve the balance between the growing need for mobility and the requirements of health and the environment.
This entails reducing pollutant emissions (especially particulate matter and nitrogen oxides), noise and the use of land and resources.
The transport sector must also make a significant contribution to achieving the German climate protection target. This is the only way for Germany to achieve a 40 percent reduction of greenhouse gas emissions by 2020 compared to 1990.
The German government's policy
Structuring mobility in an environmentally sound way
The German government considers it a core task of sustainable transport policy to make the mobility needed by modern societies as environmentally sound as possible. Continuously growing traffic volumes pose a particular challenge.
A sustainable mobility that is fit for the future will be achieved through a transport system which avoids unnecessary journeys and which is safe, clean, environmentally sound, efficient, quiet and affordable. Key elements for this are improving technologies, switching to more environmentally friendly modes of transport and avoid unnecessary trips or transportation.
In many sectors, German environmental policy has succeeded in reducing burdens on the environment. Major reductions in the emissions of some pollutants in road traffic were achieved through ambitious limit values and more efficient drive technologies, as well as through economic incentives such as the ecological tax reform and the HGV toll. Despite an increase of more than 20 percent in vehicle-kilometres travelled, between 1990 and 2010 carbon monoxide emissions (CO) were reduced by 84 percent , nitrogen oxides emissions (NOX) by 59 percent, hydrocarbons by 92 percent and particulate matter (PM) by 64 percent. Low emission zones and other measures at the local level also help to reduce the negative impacts of traffic on the environment. The updating of European exhaust gas standards also makes an essential contribution to further limiting pollutant emissions.
An international comparison also shows that Germany is leading in reducing national CO2 emissions. Germany is one of few EU member states which were able to cut CO2 emissions from traffic. Between 1990 and 2008 greenhouse gas emissions were reduced by 9.8 percent. Motor vehicles have become increasingly more energy efficient over the years. Average CO2 emissions of newly registered cars in 2009 were 154 gramme CO2 per kilometre. Compared to 2008 that is a reduction of 6.6 percent. However, the German government takes the view that additional efforts in the transport sector will be necessary in order to make an adequate contribution to climate protection.
Support for electric mobility
In the medium and long term electric mobility will be a key element of making transport more environmentally friendly through the use of renewable energies. Electric mobility offers the opportunity to combine the fundamental targets of environmental policies with industrial and transport policies in a way from which all may profit. The Federal Environment Ministry therefore supports the development of electric mobility in Germany and thus contributes to Germany remaining at the spearhead of environmental technologies – in the transport sector as well.
The National Development Plan for Electric Mobility plans to put one million electric vehicles on German roads in 2020. These vehicles will be fuelled by renewable energy and thus help to protect the climate. In its Energy Concept the German government aims to raise this number to six million by 2030.
Acting in an environmentally sound and resource-friendly way when in traffic will not reduce your mobility. Choosing the right mode of transport not only lowers pollutant emissions, it may also save time and money. Finding a parking space for a bike is no problem at all, and, in particular in cities, public transportation is an environmentally sound and cost-effective alternative to cars. Trains help you avoid traffic jams. And if it has to be the car: Even experienced drives can save around 25 percent of fuel if they change their driving habits. The right tyre pressure saves fuel and thus avoids climate damaging emissions. The same goes for switching off the engine at traffic lights, railway gates or in traffic jams. Smart mobility pays off – it is not only good for the environment, it also saves you money.